An ambitious plan to bring a complete, high-density community of 30,000 residents called WeTown to an Abbotsford hillside has been unveiled.
WeTown is proposed for the Auguston neighbourhood in Abbotsford, south of McKee Road near Blauson Boulevard, a five minute drive from Highway 1.
It's envisioned as a compact city, designed to encourage residents to get out of their cars and walk, cycle and roll. The WeTown concept includes 36 buildings, linked by a loop that will allow residents to travel from work to home in eight minutes or less.
Renderings: WeTown proposed for Abbotsford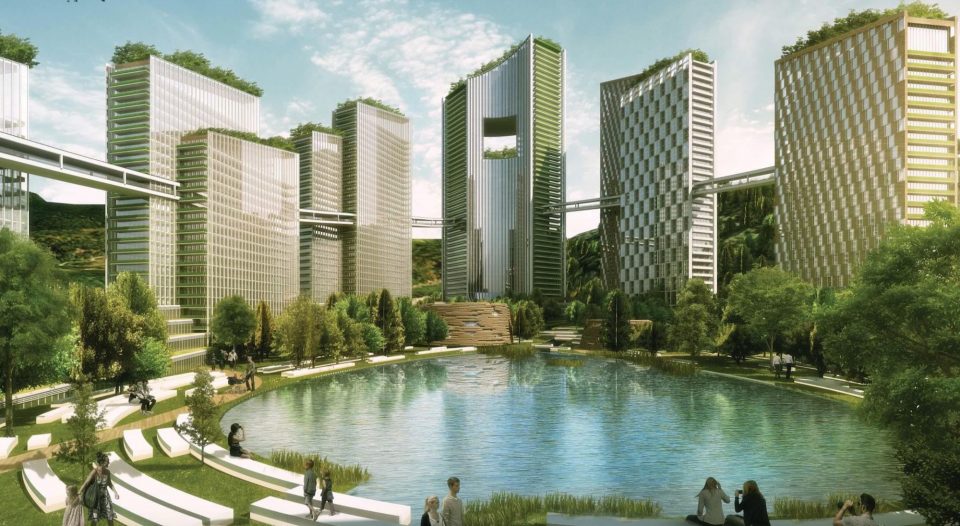 "WeTown represents a new era of living. It is a mixed-use master-planned community for 30,000 residents inspired by nature, people, sustainable living and technology," says Ian Renton, General Manager of Auguston Town Development Inc. "The focus is to build a sustainable community and tech campus that promotes walkability, connection, and a healthy lifestyle."
Buildings include residential homes, office space and commercial retail, including a farmers market. WeTown will also include a convention centre and hotel, university campus, and preserved parkland.
The driving concept behind the development is the idea of making Abbotsford a remote tech hub, benefitting from its location near the U.S. border as well as Vancouver.
Several city council members expressed concerns that the development of WeTown could disrupt the city's official community plan.
Abbotsford already has an ambitious plan to develop a city centre, centred around South Fraser Way and Gladwin Road, and bordered by Mill Lake.
The plan aims to break up the large, existing commercial blocks on South Fraser Way and create a more walkable, human-scale community that can serve as an official "city centre" and accommodate up to 10,000 more residents.
The developer of WeTown estimates it could take up to 20 years to fully realize the vision for the site.