We are learning more about a highly-anticipated proposal with classic design cues and world-leading sustainability features coming to Alberni and Nicola in Vancouver's West End.
Vancouver-based developers Asia Standard Americas and Landa Global have filed a formal rezoning application with the city to construct two residential towers (48-storeys and 43-storeys) at 1444 Alberni Street, the site of an aging rental apartment tower and office podium.
The design is a throwback to the Formalist style of the early 20th century, and looks like something you might see in New York or Chicago. Vancouver has a few remaining examples of Formalist architecture, including the Hotel Vancouver and the art deco masterpiece, the Marine Building.
Despite development's traditional appearance, it will be the largest and tallest "Passive House Development" in the world when complete. Passive house (German: Passivhaus) is a rigorous, voluntary standard for energy efficiency that results in buildings that require little energy for heating or cooling. The development's punched window façade and substantial insulation will help achieve passive house goals. The architect says they want to provide a "unique contrast" to the Vancouverism style of glass towers.
The two towers will have a total of 443 suites, 129 of which will be market rental. The rental units will replace apartments which will be lost when an existing apartment tower on the site is demolished.
Premium materials will be used on the façade, including limestone cladding, granite and bronze accents. The podium will feature sculptural details on the walls and around doors and windows to create visual interest for passersby.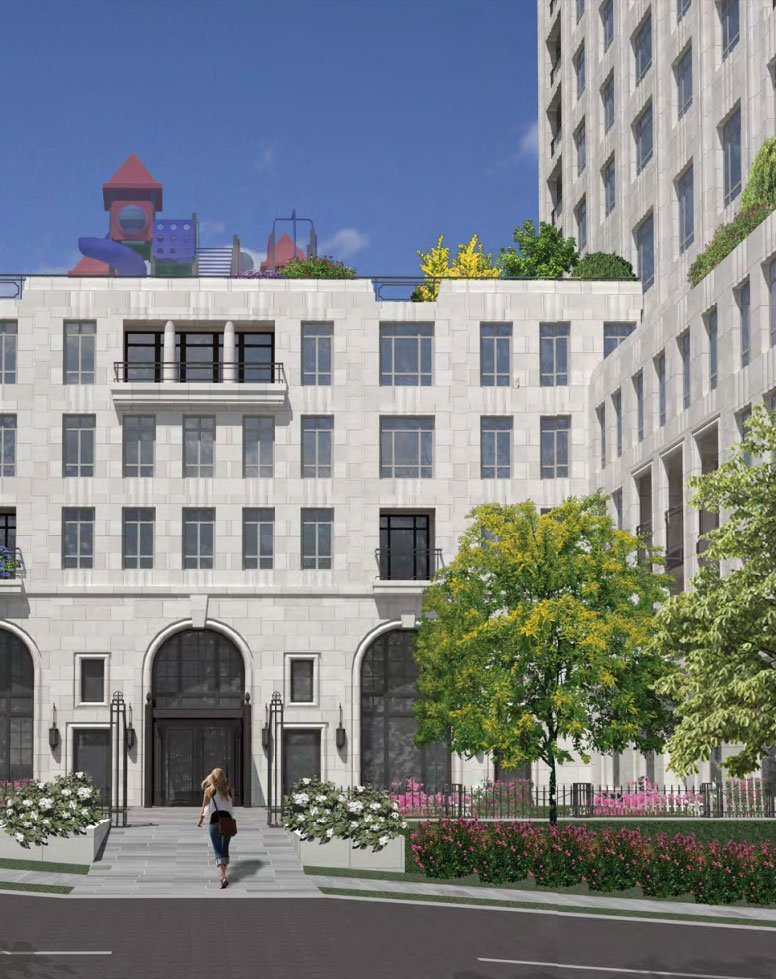 The proposal also includes a new, 56-space childcare facility to be owned by the city and a new public park on Nicola Street, which will be closed permanently between Alberni and the laneway to the south.
484 parking stalls and 562 bicycle parking stalls will be provided for residents, and 100 per cent of suites will have access to full 40 amp level two electric vehicle charging.
A waste management concierge will serve residents, picking up waste from each floor/suite and sorting it into different collection streams for reuse, recycling, composting and garbage. A dedicated room on each floor is provided for this function.
Outdoor barbeque areas will provide shared amenities for rental and condo residents, to cook together and lounge.
Architects on the project are Musson Cattell Mackey Partnership of Vancouver and Robert A. M. Stern Architects of New York City.
Alberni Street and the border of the West End and Coal Harbour is seeing a flurry of development proposals, most of them for luxury condominiums.
Recent proposals in the area include: