Anthem Properties has filed a long-awaited rezoning application for a 33-storey condo tower at West Georgia and Bidwell Street, on the former site of a Chevron service station in Coal Harbour.
The luxury tower at 1698 West Georgia Street will include 127 units ranging from one bedrooms all the way up to three bedroom units and townhomes. Underground will be 213 vehicle parking spaces and 335 bicycle stalls.
Architects are Kohn Pedersen Fox Associates (KPF) of New York City and Chris Dikeakos Architects.
Anthem held an open house April 9, 2019 to introduce the project to neighbours and show a building model of the upcoming tower.
Building model: Anthem West Georgia tower
Renderings: 1698 West Georgia Street by Anthem Properties
The design is inspired by the North Shore mountains with an interlocked and stepped building form. Cascading greenery on the upper terraces continues down on the tower façade in the form of balcony edge planters.
The architects say the horizontally-integrated wall plantings will bring the mountainside design concept to life.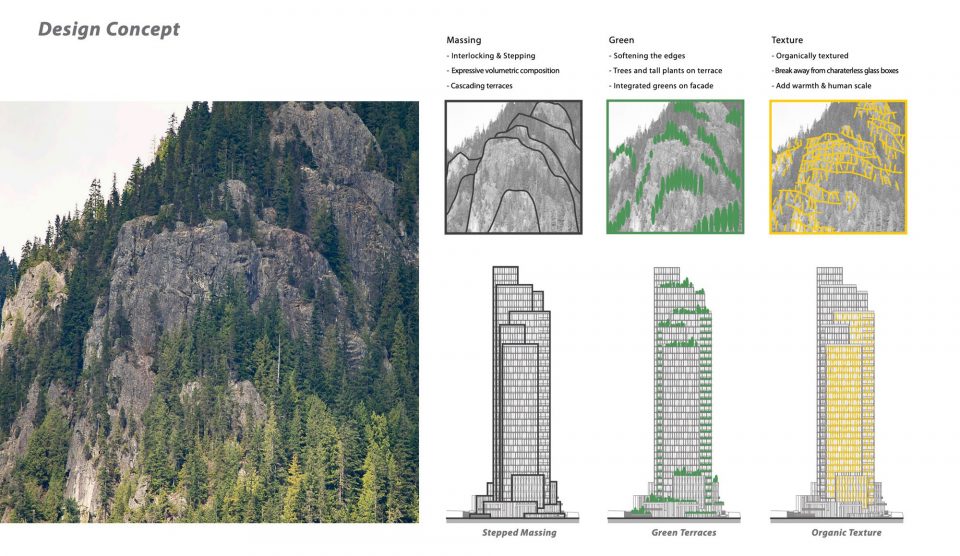 A two-storey waterfall will be the focal point of the corner at West Georgia and Bidwell, and provide ambient white noise to block out the sounds of traffic. The waterfall will also recycle stormwater runoff from the site.
Anthem Properties acquired the site in 2017 for a reported $72 million.
Next door is the White Spot site, expected to be redeveloped into a two-tower luxury condominium development.
Westbank is also active nearby with two condominium towers on Alberni Street: Alberni by Kuma and another tower at Alberni and Bidwell.