Nine-foot tall parasols are lighting up the evening skies outside the Bentall Centre in downtown Vancouver, as part of a new public art installation by local design studio Tangible.
The installation, designed by Alex Beim, is part of a major revitalization project that Bentall Centre owners Hudson Pacific Properties and Blackstone are undertaking to modernize and update the office complex, particularly its outdoor public spaces.
The umbrella-like structures are installed on the new Dunsmuir Plaza, near the intersection of Dunsmuir and Burrard, across from the SkyTrain station. They are surrounded by new, wavy wood seating areas and landscaping, designed by Hapa Collaborative.
Photos: Bentall Centre parasols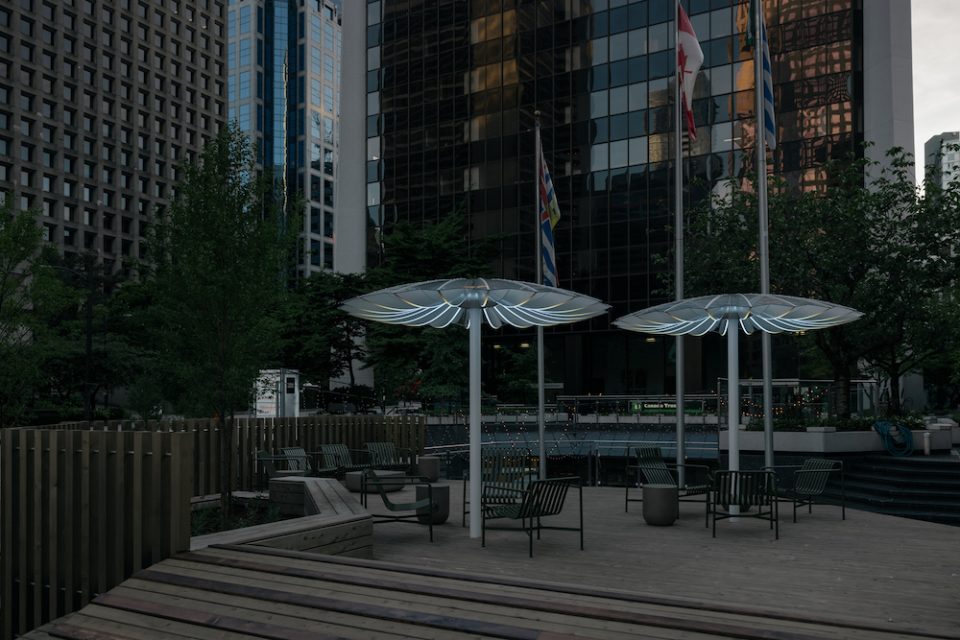 The structures contain 40 fins — meant to mimic the underbelly of a mushroom — with controllable, colour changing LED lights with acrylic diffusers.
"I have always wanted to contribute to how we live in this city. We're so used to being limited to experiencing the world through small screens like phones and computers that sometimes you feel something real and it is kind of mind-blowing. If we had a lot of elements like these in the city people would be more awake, aware, and connected than we are right now," says Alex Beim, founder and lead artist at Tangible.
Video: LED lighting at night and drone footage
"We are thrilled with the Parasol installation and we look forward to welcoming tenants and the public alike to enjoy them as part of our newly renovated Dunsmuir Patio. It is an exciting addition to the Bentall Centre campus and perfectly suited for this moment in time, creating a comfortable, spacious and beautiful space for visitors to safely reconnect with friends, family and coworkers outdoors," says Chuck We, senior vice-president of Western Canada for Hudson Pacific Properties.