The concept for a redesign of Gastown's Blood Alley Square was revealed at a recent open house.
The City of Vancouver hosted its first public open house in 2016 to gather feedback for the redesign of Blood Alley Square, which is adjacent to Trounce Alley. At an open house last week, the city presented its redesign concept.
Video: Blood Alley Square and Trounce Alley flythrough
The city has several goals for the redesign of Blood Alley Square, including:
Creation of an urban space that is diverse, dynamic and welcoming;
Conservation and/or reinterpretation of important heritage characteristics is vital;
Retention of mature existing trees where possible;
The provision of shared loading for all residents and businesses;
Improved function of solid waste management;
Stronger connection between the Square and adjacent developments; and;
A stewardship strategy that encourages opportunities for everyone to use the space.
Blood Alley Square was originally created in 1971 after the city purchased the rear portion of the Stanley/New Fountain hotel, which included several garages. The garages were demolished to make way for the square.
Westbank plans to redevelop the Stanley/New Fountain hotel in partnership with BC Housing, including 80 social housing units and 62 market rental units.
The redevelopment of the hotel will include a pedestrian connection between West Cordova Street and Blood Alley Square.
In the square, the cobblestone and red bricks will be rehabilitated. The original Blood Alley Square heritage globe lights — common throughout Gastown — will be restored and re-painted. New street furniture made of milled stainless steel will give a nod to the area's former semi-industrial past.
In addition, a retaining wall and new stairs will placed between the Stanley/New Fountain hotel and the revitalized square.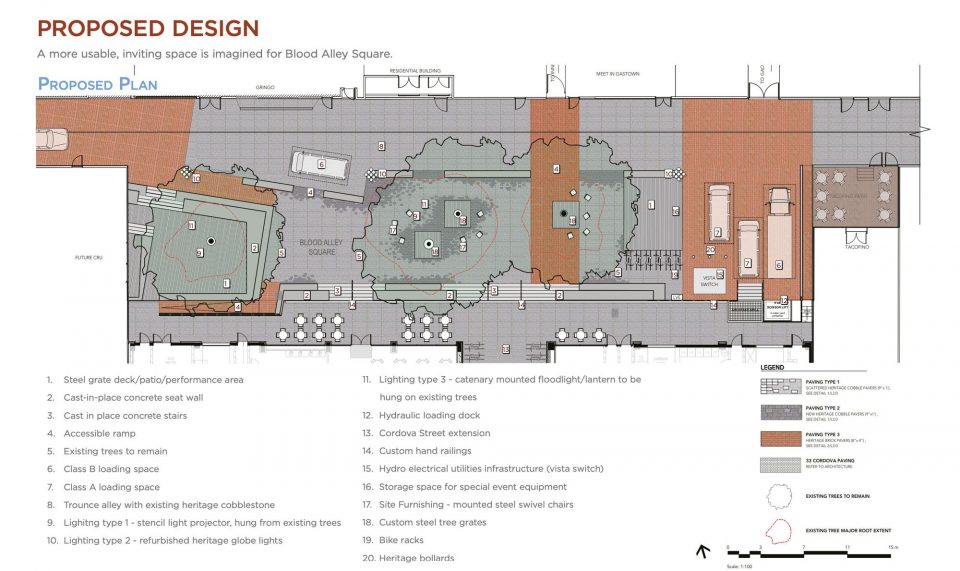 The city is going to great lengths to preserve trees in the square, however, four of the nine tees will need to be removed as they are in poor health.
The revitalized square and Trounce Alley will be able to accommodate up to 500 people for special events.
Enns Gauthier Landscape Architects, d.WG design studio and Kerr Wood Leidal Consulting Engineers are all working on the redesign.
To provide feedback on the redesign, click here or view the open house presentation boards.