Vancouver's apartment vacancy rate has been below one per cent for several years, and developers are responding to a tight rental market with several new rental apartment buildings.
One new proposal is on Commercial Drive at Adanac Street where a six-storey, 38 unit secured market rental building is planned.
It will be constructed with a concrete parkade and main floor, with the top five floors being wood frame construction. Three ground floor retail units will front onto Commercial Drive.
The development will be built to a Passive House (Passivhaus) standard, and will consume up to 90 per cent less heating and cooling energy over a conventional building.
As commonplace in Passive House buildings, heat recovery ventilators will supply fresh air to living and sleeping areas, and will continuously exhaust bathroom and kitchen areas. Because of this, the building will be designated non-smoking for all tenants as part of the tenancy agreement. All toilets, showers and washing machines will be low flow. Tenants will be provided an information package on Passive House buildings at move-in.
The façade of the building will consist of brick on the bottom two floors, and siding on the upper levels. Balcony glass will be fritted and feature accent colours.
Two amenity rooms will be available for residents, one on the main floor with a patio and play area for children, and the other on the fifth floor, adjacent to a rooftop deck for all residents.
The architect is Cornerstone Architecture.
The site is next to the Kettle Friendship Society. The society is planning to redevelop their property in partnership with Boffo Properties, with the hopes of adding between 150 to 200 market residential units and 30 social housing units run by the Kettle Friendship Society. The redevelopment will also add new space for the society's programs and services.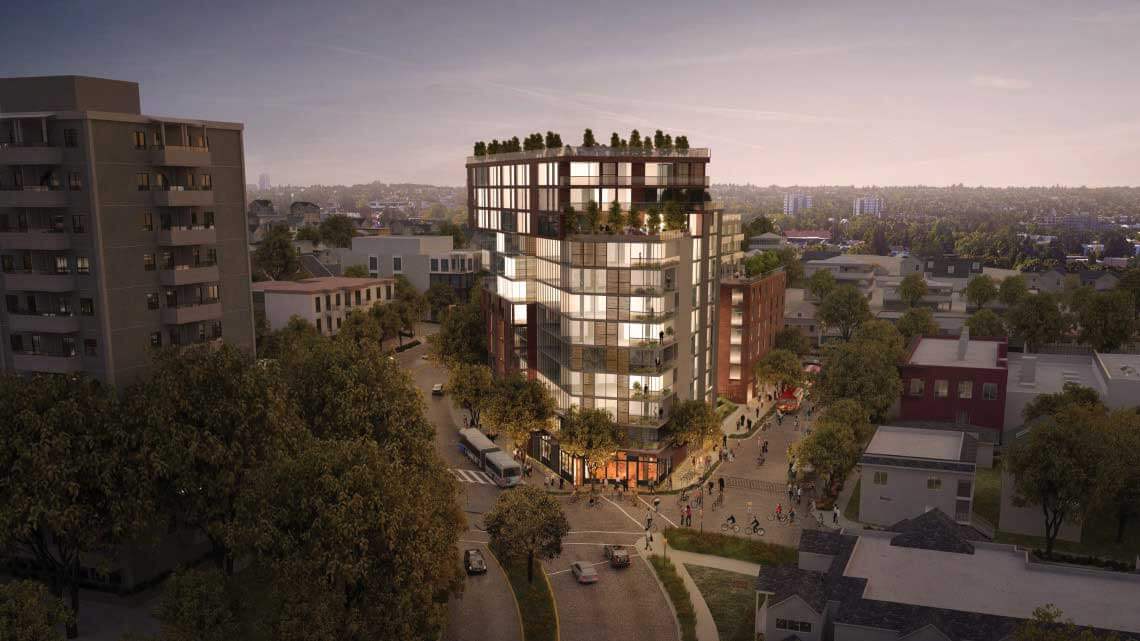 A few blocks north, Cressey is planning a four-storey mixed use building at the corner of Commercial Drive and East Pender Street, combining rental units, condominiums, office and retail space.