We now have a better picture of redevelopment plans for the downtown Vancouver post office, the largest heritage revitalization project in city history.
Musson Cattell Mackey Architects, on behalf of Bentall Kennedy, acting for the B.C. Investment Management Corp, have submitted their detailed application to the city to rezone old post office site at 349 West Georgia Street, across from the library. The iconic building was originally constructed in 1958 and covers an entire city block. At the time of its construction, it was the was the largest welded steel frame structure in the world.
The redevelopment, tentatively called "Post on Georgia", includes the following components in a comprehensive mixed-use form of development: office, large-format retail, market rental and condominium residential, restaurants and childcare space. There will also be on-site public open space fronting West Georgia Street.
Three towers will be added above the existing podium, including 17 storeys of office, and 18 and 20 storeys of residential. The modest heights of the buildings are restricted by view corridors over the site. However, these towers will be added on top of the already existing podium, increasing their heights by seven storeys.
Heritage advocates will be pleased to learn that the redevelopment will retain almost all of the existing structure of the post office, with extensive heritage restoration planned of the building's unique features, including the large crests on the exterior of the building and the large mural inside.
The developer hopes to achieve LEED Gold Neighbourhood Development for the project. The office building will constructed to a LEED Platinum standard.
Models of the post office redevelopment are now available for viewing at Vancouver City Hall: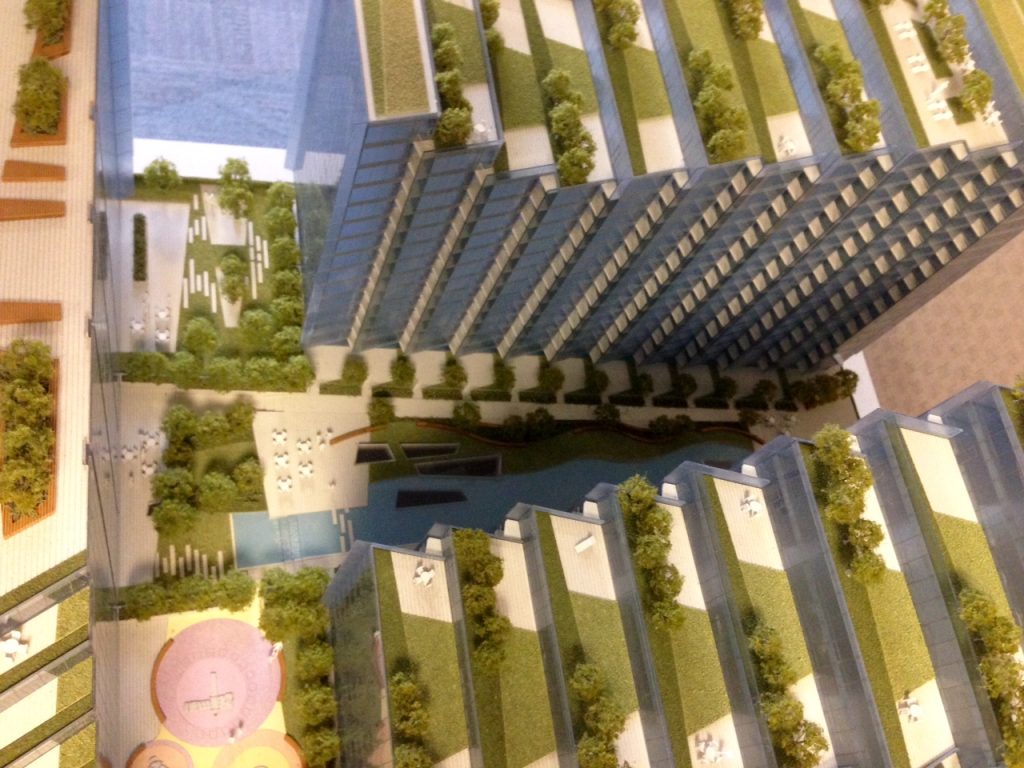 Project statistics
Total retail 273,829 sq. ft.
Total office: 512,336 sq. ft.
Total residential: 705,886 sq. ft.
799 total residential units
427 market rental (including 24 three bedroom units)
372 condominium units (including 43 three bedroom units)
Parking: 1,038 stalls, 1,168 bicycle stalls
Lofts beginning on levels 5-7, as well as parking. Above ground parkades are unusual in Vancouver but will be convenient for residents who live on the same floor
Extensive garden terraces and urban agriculture on rooftops
Apart from almost 1,000 new residential units and office space, the redevelopment will bring several highly-desired large format retail spaces to the downtown core. There will be a 25,000 sq ft retail space on the lower level, as well as two large retail spaces (each approximately 35,000 sq ft) on the third floor, and two large retail space on fourth floor (each approximately 40,000 sq ft each).
Conceivably, the retail spaces on the third and fourth floors could be combined to house larger retailers with escalators and elevators between floors. It has been widely reported – including on this website – that Uniqlo is looking for space in downtown Vancouver.
Pacific Centre has also been floated as a possible future location for a Uniqlo store in downtown Vancouver.
Other major retailers currently looking for space downtown include Loblaws CityMarket, Whole Foods, Simons, and Walmart. Renderings of the ground floor depict a grocer, but that is subject to change.
Earlier in 2016, a retail consultant told the Globe and Mail that the project will likely focus on retail that isn't fashion or luxury, because those niches are established already around Granville and Alberni.
"It's not going to be high end [in the post-office building]," Phil Boname of Urbanics said to the Globe and Mail. "But there are big-box retailers not in downtown Vancouver who might want to be here. We have a very substantial resident population that is quite affluent and they need the same mix as you have in suburbia."