The City of Vancouver, Canada Lands Company and MST Development Corp. — jointly owned by the xʷməθkʷəy̓ əm (Musqueam), Sḵwx̱wú7mesh (Squamish), and sə̓ lílwətaʔɬ (Tsleil-Waututh) Nations — unveiled two concepts for the redevelopment of the Jericho Lands.
The design concepts will be refined based on public feedback to produce a preferred concept, but both concepts include towers up to 38 storeys, and 10 million square feet of new development.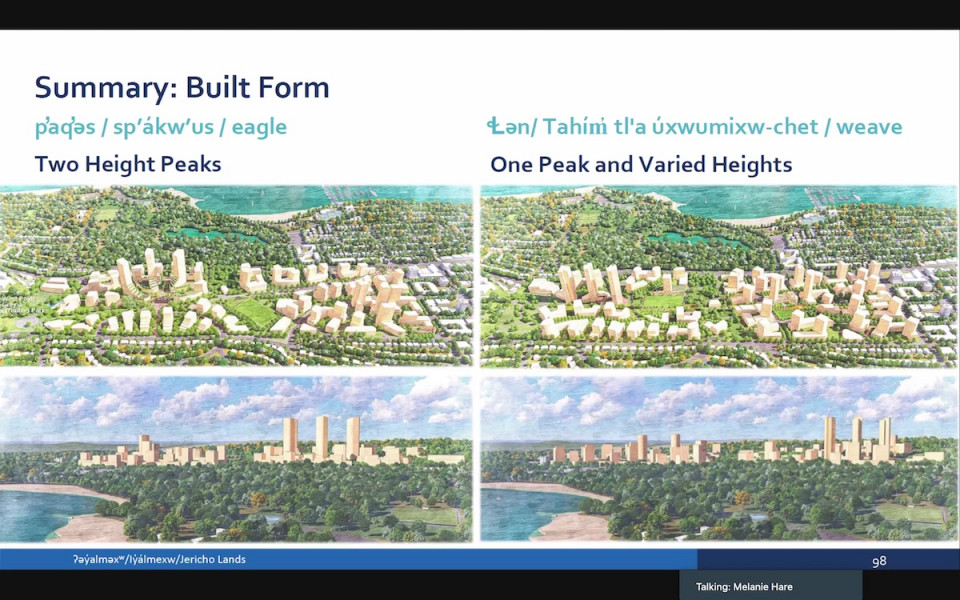 Project statistics
Total of 10 million square feet of new development
9 million square feet of residential or 9,000 units home to between 15,000-18,000 people
20 per cent social housing and 10 per cent market rental, with a proportion of below market rental as well
1 million square feet commercial, office, amenities, etc.
25-30 year build-out timeline
Provisions for a future SkyTrain station as part of an extension to UBC
20 acres of new parkland
car-free corridors through site
water feature on north boundary of site along West 4th Avenue
Both concepts, "Eagle" and "Weave" include three prominent towers up to 38 storeys, located close together to "represent the three sentinels watching the Salish Sea, and the three partner nations, Musqueam, Squamish and Tsleil-Waututh.
Concept: Eagle – Jericho Lands
Concept: Weave – Jericho Lands
2019 story: Planning process for 90-acre Jericho Lands site begins
The City of Vancouver kicked off planning for the redevelopment of the Jericho Lands with a community open house on Saturday.
The 90-acre site, between south of West 4th Avenue in Point Grey, will be soon redeveloped into a mixed-use community with multi-family residential and commercial space.
"This is the start of a multi-year, multi-phase process and we hope members of the nearby community will be inspired to get involved," said Deana Grinnell of Canada Lands Company. "This is a special parcel of land and we hope the process ahead will encourage members of the nearby community to participate in this historic opportunity to create a new vision for the Jericho Lands."
The site was formerly operated as the Jericho Garrison by the Department of National Defence. In 2014, ownership was transferred to the MST Nations (Musqueam Indian Band, Squamish Nation and Tsleil-Waututh Nation) and Canada Lands Company (CLC).
The city has several goals for the site, including:
Recognize Jericho Lands as a site of reconciliation.
Design the site to be welcoming and inclusive to people of all cultures and provide opportunities for ceremony, events and community connection.
Use Indigenous principles to inform art, landscape design, public realm, building design and expression
Target 30% of the units for affordable housing.
Achieve at least 35% family units with two or more bedrooms.
All new buildings to meet or exceed LEED Gold or be Zero Emissions.
"The Jericho Lands project is a way for our Nations to rebuild from the decades of harm done to our communities; our work with the MST Partnership, Canada Lands and the Jericho community is encouraging for the future," said Khelsilem, councillor and spokesperson for the Squamish Nation. "We look forward to seeing the opportunities that are created in terms of housing, jobs, cultural revitalization, and community-building — not only for our community, but for all communities."
The city's policy statement will establish principles, objectives and policy on reconciliation, affordable housing, land use, density, height, public benefits, transportation, built form, character, sustainability, infrastructure and phases of development.
A preferred development concept is expected to be presented by November/December 2019, with the project expected to go before city council in the summer of 2020.
The anticipated SkyTrain extension from Arbutus to UBC is also top of mind in discussions of transportation options for the Jericho Lands.
A second open house is scheduled for Thursday, March 7, 2019 (4:30 pm – 7:30 pm) at the Jericho Hill Pool & Gymnasium, 4180 W 4th Avenue, Vancouver.
For more information on the planning process, visit inspirejericho.ca