The Vancouver Park Board is seeking public input for a new, nine-acre park at Oakridge Centre.
The public park will be located partially on the mall's rooftop, as well as at ground level. Access to the upper park levels will be by stairs, ramps, escalators and elevators.
The vision for the park includes lush plantings and large trees, a variety of seating areas and surfaces, water features, interactive play opportunities, a running track and public art throughout.
For runners and walkers, a 800-metre long track will ring the perimeter of the new park.
Several skylights will provide daylight to the shopping centre below, and the park will be surrounded by new residential and office towers as part of the redevelopment of Oakridge Centre by Westbank and QuadReal. 
Once complete, 6,000 residents will be living in 2,600 new homes across 11 towers.
The park board first sought public input on the new park last year, with more than 1,000 people providing feedback. Their input has helped inform the draft concept outlined below, broken down into six "concept" areas.
Civic Centre Park
The Civic Centre Park will be located at West 41st Avenue and the western boundary of the site, adjacent to a new community centre, located in the new Civic Centre.
It includes:
large lawn area for gatherings and events

children's nature play area

great steps as amphitheatre seating, with large slides

outdoor pavilion

outdoor activity spaces for the community centre
The new Civic Centre building will contain the new community centre, as well as a library and childcare facility.
It will also house a fitness centre, gym, seniors centre with kitchen, youth centre, performance and multi-use spaces.
Upper Green
The Upper Green is a large, open lawn space on the upper level of the park. A fenced, off-leash dog area will be located nearby.
It includes:
large lawn area for informal activities

space for group activities like tai chi, yoga and fitness bootcamps

covered pavilion for concerts, performances and events
The Commons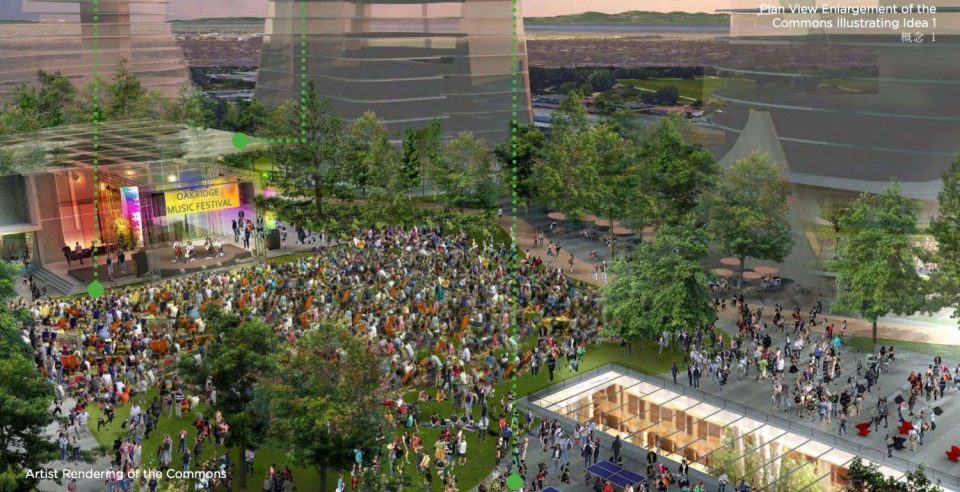 The Commons will be a hub of activity adjacent to the outdoor patios of several restaurants. Interactive water features will provide visual interest, as well as play opportunities for children.
It includes:
large stage area for events and performances

open lawn for activities like sunbathing, picnicking and temporary volleyball or badminton nets

playground space

interactive fitness stations

outdoor games like table tennis

seating areas in sun and shade
The Meadow Gardens
The Meadow Gardens will be a lush area with a variety of wildflowers, and will also provide homes for birds and other pollinators. There will be an outdoor classroom and "learning garden" with support facilities for gardening and beekeeping.
It includes:
terraced community garden and orchard

outdoor classroom

pavilion with event space

meandering path through a large perennial meadow that will encourage birds and insects
The Woodland
The Woodland will be a lush, forested area with boardwalks and seating areas. It will showcase ground flora native to the Pacific Northwest and is meant to be a restorative space in contrast to the more active areas of the park. Access will be off West 45th Avenue, at the southern end of the site.
It includes:
meandering boardwalk through the forest

seating areas for small groups and individuals
Pocket Park
The Pocket Park is located adjacent to The Woodland, and is accessed off West 45th Avenue. It's meant to be a neighbourhood park, leading people to the entrance of the larger rooftop park.
It includes:
preschool-aged playground

seating overlooking the playground

grove of trees leading up to the park on the rooftop
Over 45,000 new residents are expected along the Cambie Corridor by 2041, more than doubling the current population and increasing the need for park space.
A final park design will be recommended to park board commissioners this summer.
The landscape architect is PFS Studio of Vancouver.
Need a reason to check out the @ParkBoard #OakridgePark open house tomorrow – an amazing scale model showing park spaces and how they relate to one another and the buildings https://t.co/vDvzZ3tuGA pic.twitter.com/b1WWNacY0G

— Dave Hutch (@dave_hutch) May 12, 2018
Oakridge Centre park public information sessions
Two upcoming public information sessions for the new park at Oakridge Centre are planned:
Thursday, May 10
4 p.m. – 7 p.m.
Saturday, May 12
11 a.m. – 2 p.m.
Location: Oakridge Centre, 650 West 41st Avenue (entrance next to Hudson's Bay)
For more information, visit vancouver.ca