Westbank, Crombie REIT and architects Perkins + Will have unveiled the redevelopment of the Safeway site at East Broadway and Commercial Drive, adjacent to the SkyTrain station.
The application is detailed, but the basics include:
three residential towers ranging in height from 24 to 30 storeys — unprecedented in the neighbourhood
a 50,000 sq ft. grocery store, replacing the current Safeway store
additional small scale retail, including a brewery and retail units within a public plaza
50,000 sq ft. of office space
In total, 520 strata condominiums and 160 rental units are proposed. Fifty per cent of the strata housing will be suitable for families (two bedrooms or larger), as well as 35 per cent of the rental housing.
The development will also include a childcare facility, and 20,000 sq ft. public plaza, parallel to the SkyTrain station.
The three towers will be organized around a landscaped courtyard, accessible to all residents. Interestingly, the tower lobbies will be located within the garden courtyard, rather than at street level. The architects hope this arrangement will encourage more social interaction.
"This is architecture with heroic scale and presence, a confident landmark for a dynamic, culturally rich, part of the city."
– Perkins + Will Architects
The façades of the towers will include copper and bronze finishes, as well as structural elements like beams clad in zinc or metallic finish aluminum.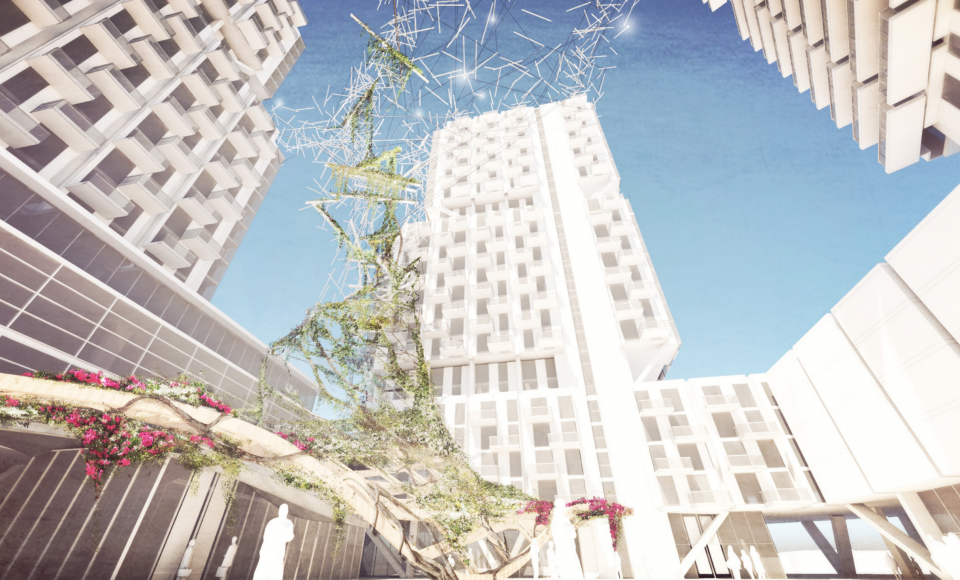 Residential amenities will include a communal kitchen and dining space (indoor and outdoor), study rooms, workshop and a centralized recycling facility.
As part of the project, a new traffic signal will be installed at the East 10th Ave. and Victoria Dr. intersection. Vehicle and bicycle traffic will be fully separated on East 10th by converting the block to a one-way westbound street for motor vehicles with a bi-directional (two-way) bike lane.
The rezoning application by Westbank and Crombie REIT appears to be in line with the city's Grandview-Woodland Community Plan, which calls for towers ranging from 12 to 24 storeys on the site, as well as new office space.
Redevelopment of the site has been in the works since 2013, when Perkins+Will designed a concept for the site.