BC Housing has released the draft concept for the redevelopment of Skeena Terrace, ahead of a rezoning application that's expected to go before city council this summer.
The redevelopment concept includes approximately 1,730 new affordable housing units, with "deep levels of affordability." Two-thirds of the units will be rented at rates below BC Housing's Housing Income Limits, and will be rented at no more of 1/3 of household income. The remaining one-third of units will be rented at market rates. Approximately 60 per cent of units will be two-bedroom or larger, suitable for families.
The tallest buildings will be located near the corner of Lougheed Highway and Skeena Street, and will be 25-30 storeys. The intention is to create an "architectural gateway" to Vancouver. Building heights will taper down to six storeys on the northern and western edges of the site.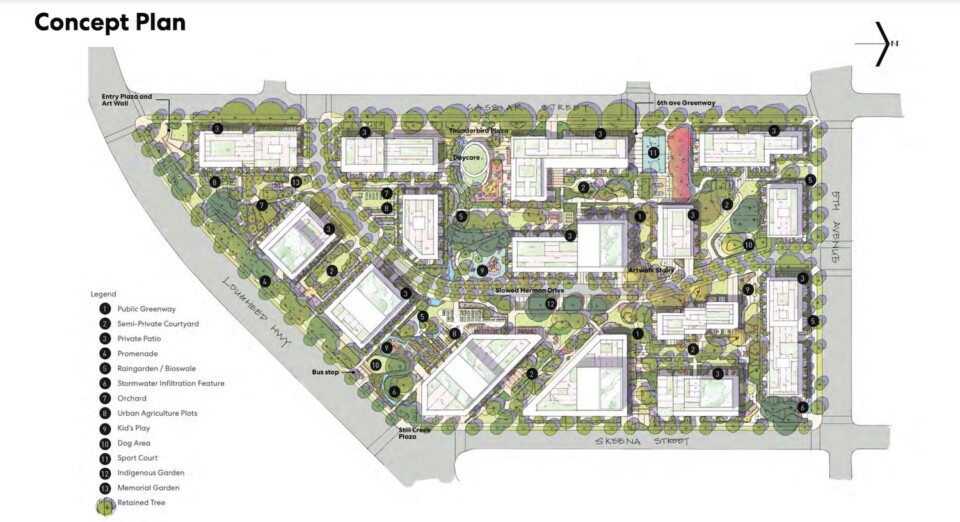 In total, the redevelopment will consist of 1.45 – 1.5 million square feet of space, with four towers (30, 25, 25 and 18 storeys) and an overall site coverage of 40 per cent.
There will be 8,000-15,000 square feet of "locally serving" retail at Skeena Terrace, located across from the Thunderbird Community Centre. A 69-space daycare facility is also proposed. 
Approximately 600 tenants currently live at Skeena Terrace in 230 rental units.
Previous story: January 28, 2021
Skeena Terrace, an aging, 1960s-era CHMC social housing complex in east Vancouver, will soon be redeveloped by the provincial government.
BC Housing is in the pre-planning stage for redevelopment of the property on Cassiar Street near the Vancouver-Burnaby border.
Skeena Terrace consists of 232 units, home to approximately 600 residents including low-income seniors, families and people with disabilities. The entire site is 14 acres and includes a 100-foot elevation change.
The province says the housing complex has been identified as a key candidate for redevelopment, due to its aging buildings and infrastructure, which require extensive and ongoing repairs to ensure continued safety and livability.
"I look forward to seeing how we can transform this development, so that people will continue to have a safe and secure place to call home for years to come," said Niki Sharma, MLA for Vancouver-Hastings, in a statement.
"Our goal is to create modern and affordable homes for the current residents at Skeena Terrace and future generations," said David Eby, attorney general and minister responsible for housing, in a statement.
Tenants will be supported through the redevelopment process, with the intention of allowing tenants to stay in their existing units throughout the development process wherever possible. They will also be given the first choice of new units, with no rent increase, as long as their income or household size has not changed in the interim.
Interestingly, the housing complex came about through an "urban blight" redevelopment program in the 1960s. The landscape architect was the celebrated Cornelia Hahn Oberlander, responsible for landscape architecture around high-profile buildings like the Law Courts, UBC Museum of Anthropology and the National Gallery of Canada in Ottawa. Playgrounds situated across the development originally included play structures designed by Oberlander, and special attention was paid to creating a substantial tree canopy and pedestrian connections throughout the site.
A rezoning application will be submitted to the City of Vancouver once a development plan is created. More info is available at bchousing.org