A luxurious Passive House condominium tower powered by solar panels is proposed at Bellevue and 22nd Street in West Vancouver.
Delta Land Development — the group behind the condominium tower above the Hotel Georgia in downtown Vancouver — is the developer, with design by architects Perkins + Will.
The eight-storey luxury condominium tower will be built with sustainably sourced B.C. timber, and the architects say the building will store more carbon than what's required to construct it.
Renderings: Boutique Bellevue & 22nd Street tower
The tower will include seven full-floor suites, and a ground floor including the lobby, amenity room, bicycle storage, powder room and outdoor garden.
The development is undoubtedly high-end — not just because of its location in the exclusive Ambleside neighbourhood — but the design, with elevators opening up directly into suites clad in marble and timber. All units will have large outdoor spaces.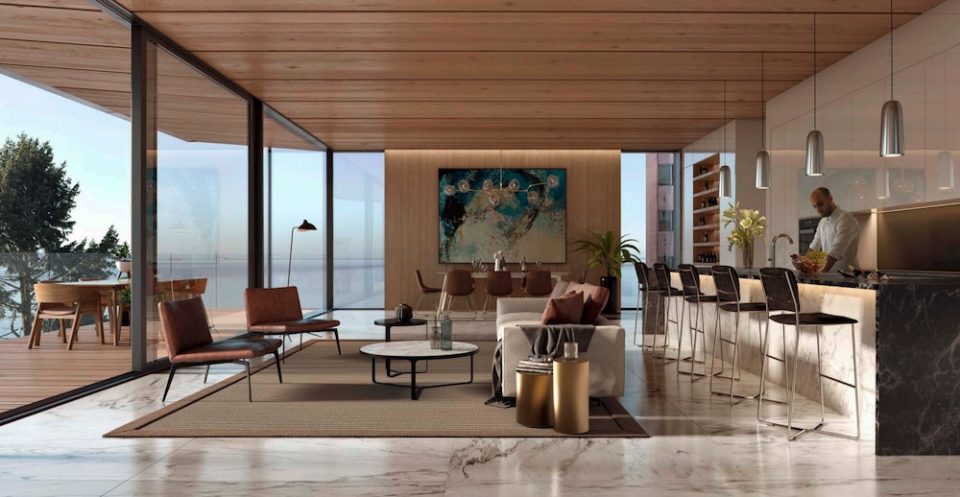 Energy will be generated through solar panels on the rooftop, feeding into a geoexchange heat transfer system providing heating and cooling throughout.
Heat recovery ventilators, Passive House Certified windows, thermal insulation and attentive building design, including unit layout and restrained window-to-wall ratio, will also contribute to the building's energy performance. The tower will be topped by a green roof with provisions for water collection.
The 18 underground parking stalls will all have EV charging capability.
A curbside drop-off and a public pedestrian seating area is planned for the corner of Bellevue and 22nd Street, along with a possible public art piece to be determined through public consultation.
Although this development only adds seven homes, the West Vancouver official community plan estimates approximately 1,000-1,200 new units could be accommodated within the Ambleside Town Centre Local Area Plan boundary.
The site is currently occupied by a small duplex and surrounded by high-rise apartment buildings, including the iconic "Pink Palace" which will soon be redeveloped.
The development proposal for Bellevue and 22nd will be presented to West Vancouver council this Monday, June 8, 2020.