Vancouver's upcoming bike share program, "Mobi", is now taking early registrations. There are two founding member plans available for sign up now:
Standard $99 plan offering unlimited 30 minute or less rides for one year (regular price $180/yr)
Plus $129 plan offering unlimited 60 minute or less rides for one year (regular price $240/yr)
Both plans offer founding member benefits including a special founding member key, discount on helmets from local bike shops (although helmets are included free in the rentals) and an invite to the launch party.
Plus, first access to the bikes, scheduled to launch June 30. To sign up, go to signup.vancouverbikeshare.ca
The city announced the highly-anticipated bike share program's name on May 20. Mobi (pronounced mo-bee) will launch with the tag line, "Bikes we share."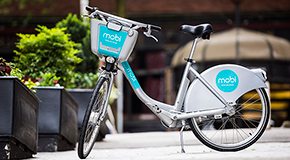 In addition to the early adopter plans, we've got some good news on Vancouver's bike share program. We've learned that the proposed monthly rate will be $15 per month for unlimited rides under 30 minutes.
It's important to note that this new pricing model is still tentative and yet to be approved. 
Mia Kohout, general manager of Vancouver Bike Share Inc., also shared with us some new details on the rollout. There will be a tentative launch for "founding members" on June 15, followed by a June 30 system-wide launch.
The official branding for the bike share program will also be unveiled mid-May, after receiving submissions from the public on the branding. The City of Vancouver is still accepting suggestions for locations of the kiosks, to add your preferred location, for example outside of your work or home, go to www.vancouverbikeshare.ca