A new, stacked industrial project, Vanguard in Richmond, launched this week — the city's first such development of flex industrial space in eight years.
The project is a co-development between Alliance Partners and Union Allied, and is located at Alderbridge Way and Shell Road. It's already 55 per cent pre-sold.
It will include approximately 200,000 square feet over 4.7 acres, with large, open-concept showrooms, warehouse spaces and office space with 23' clear ceilings. There will also be individual ground-floor loading doors and access to full-sized freight elevators.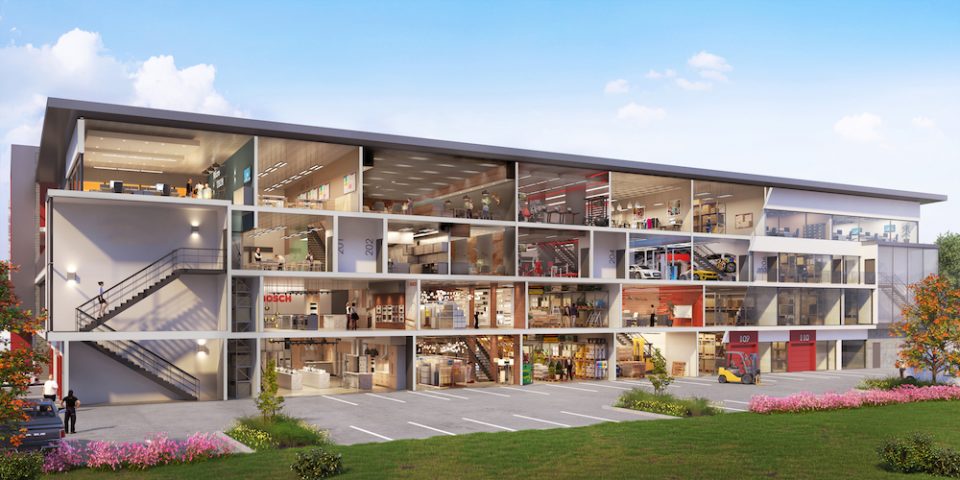 Vanguard will provide small bay industrial and office space to a market that is seeing lease rates jump 10 per cent per year – plus a 1.5 per cent vacancy rate, according to a recent report by Avison Young.
That report indicates approximately 1.8 million square feet of new industrial space will be delivered in Metro Vancouver over the next six months, but 58 per cent of that space is already pre-leased or pre-sold.
Communities facing the biggest industrial space crunch include Langley (0.8%), Abbotsford (0.7%), North Vancouver (0.6%) and New Westminster — at zero per cent vacancy. Surprisingly, Vancouver has the highest industrial vacancy rate in the Lower Mainland, at 3.3 per cent.
"This project fills a demand vacuum as we've seen with early pre-sales, and it's an exciting project for Richmond, not only because it shows the demand for light industrial strata, but because it's a new type of industrial design needed in the area. Multi-storey industrial strata has been successful in East Vancouver, but this is the first of its kind in Richmond and it shows how creative developers are getting in catering to demand for industrial spaces," says Kevin Kassautzki, principal at Avison Young.
"With ongoing low vacancy for industrial spaces in the city, we wanted to provide spaces that serve the growing number of local businesses who struggle with rising lease rates and finding secure, long-term space to grow and expand," says Alliance Partners CEO, Gordon Yeh.
The project is targeted at non-traditional industrial users including food services, recreation, furniture and home services, as well as traditional manufacturing and warehousing.
The architect is Christopher Bozyk Architects and the project is expected to complete in fall 2021.
Recent light industrial projects: