Westland is proposing a 50-storey, mixed-use tower in Surrey City Centre at 10294 and 10302 City Parkway, across from the Surrey Central Skytrain station and Civic Hotel.
The proposed development would include 429 condominiums, and an eight-storey podium with office space and ground-floor retail.
The design, by Chris Dikeakos Architects, takes inspiration from the architect's vision of the future of Surrey City Centre. The podium has a unique, curvilinear façade, and the corners of the residential tower are rounded with recessed balconies. Trees and landscaping are present on the building, and there will be several green roofs.
Renderings: 50-storey tower planned for Surrey City Centre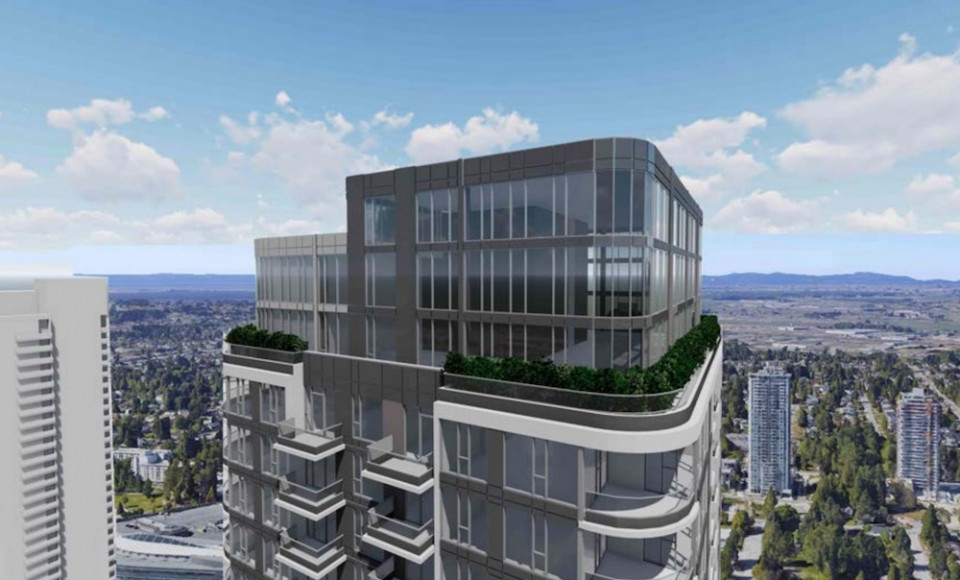 There will be two main amenity terraces on levels 9 and 49, with the rooftop deck featuring seating areas for residents to take advantage of the views.
The proposed development received 'conditional support' from the Advisory Design Panel (ADP) at the September 23, 2021. It's now at the rezoning phase.
The tower is the first of a phased development; another tower on the property and a mid-rise building are planned for the future phases.