8x on the Park, a 35-storey, mixed-use tower designed by GBL Architects, is now complete at Richards and Helmcken in Yaletown.
The project has been a decade in the making, beginning with the demolition of the former Jubilee House, a social housing building that existed on the tower site. Before construction began on the 8x on the Park tower, developer Brenhill replaced the social housing with a new Jubilee House, on the northwest corner of Richards and Helmcken. That project won a 2016 UDI Award for Excellence in Non-Market Housing.
The floor plate of the 8x on the Park tower is double the size of the surrounding highrise residential towers, necessitated by protected view corridors and the need to fund the non-market housing. The building is bisected along its north/south axis into two primary volumes, and third volume (the podium) is designed to echo the scale of the heritage Brookland Court apartment building to the west.
Photos: 8x on the Park now complete in Yaletown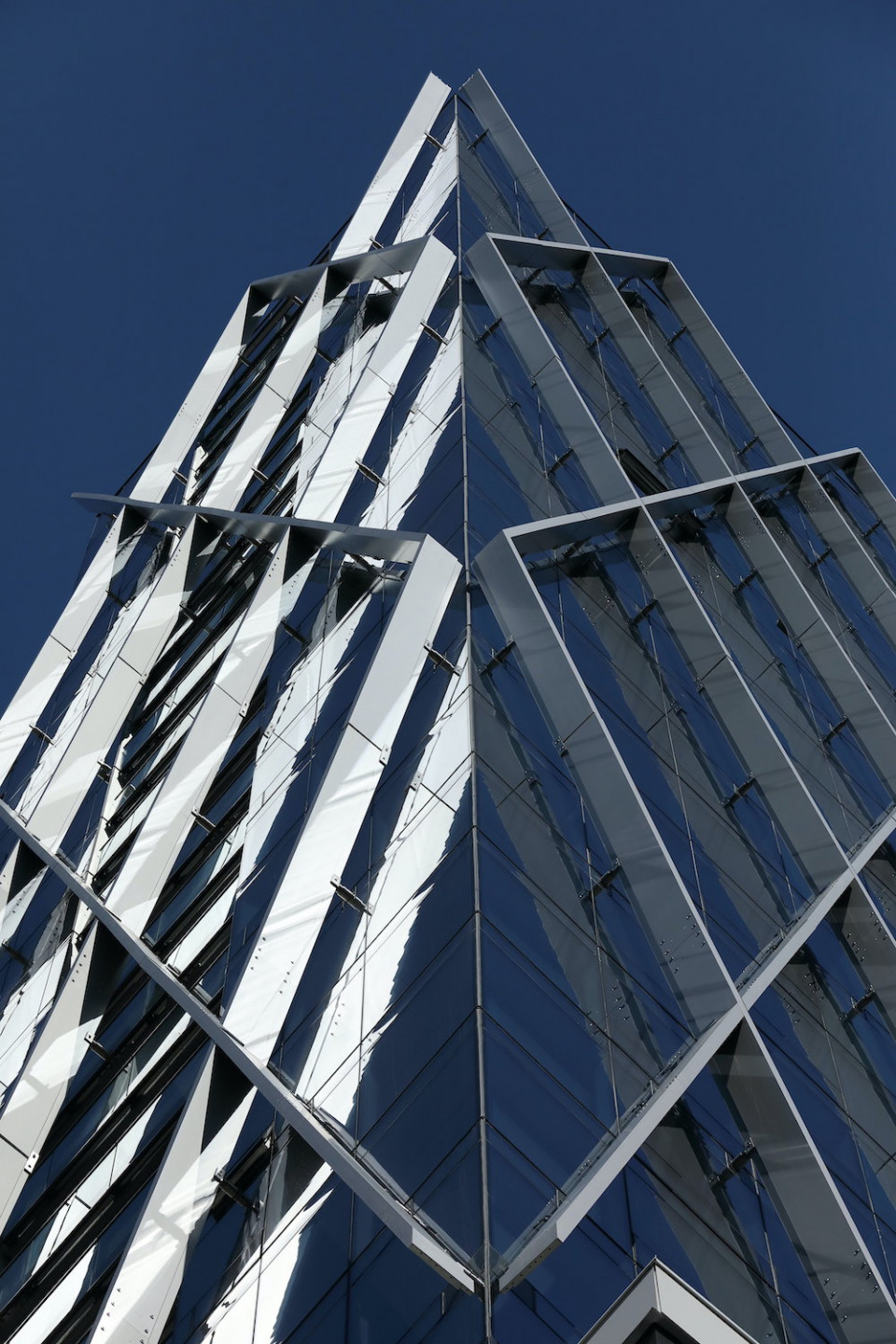 The podium consists of rental housing, with luxury condominiums in the tower above. The podium is clad in a composite stone material and includes fins arrayed across the façade in an irregular rhythm.
The western half of the tower consists of four modules, each containing eight floors, stacked vertically and delineated by a continuous metal-clad band meant to relate to the prominent cornice on an adjacent heritage building. The eastern half of the tower is clad with curtain wall glazing with inset balconies for minimal vertical interruption. The curtain wall is wrapped with a diagonal lattice of louvers to mitigate solar gains on the southeast-facing exposure, creating a 'X' pattern, hence the building's name, 8x on the Park.
On the ground floor is retail space, part of which fronts onto the adjacent Emery Barnes Park. There is also a ground-level childcare centre on the southwestern corner, also fronting onto the park.
Active building systems include efficient geothermal exchange heat pumps that are monitored through what's called enhanced commissioning analysis. The development is LEED Gold certified.
Video: Time lapse of X's being installed