Five houses will be demolished to make way for 50 stacked townhomes in the continuing densification of the Cambie Corridor.
Intergulf Development Corp. has applied for a development application for the site at 435 West 28th Avenue, between Cambie and Yukon streets.
The stacked townhouses will be wood-frame and there will be two versions — two-and-a-half storeys and three storeys — spread across five buildings arranged around a central courtyard.
The unit mix is as follows:
15 three-bedroom units
13 two-bedroom units (two of which have lock-off units)
22 one-bedroom units (single level)
There will be one level of underground parking with 59 stalls accessed from the lane. All parking stalls will have Level 2 charging capability for EVs.
Renderings: Cambie Corridor stacked townhomes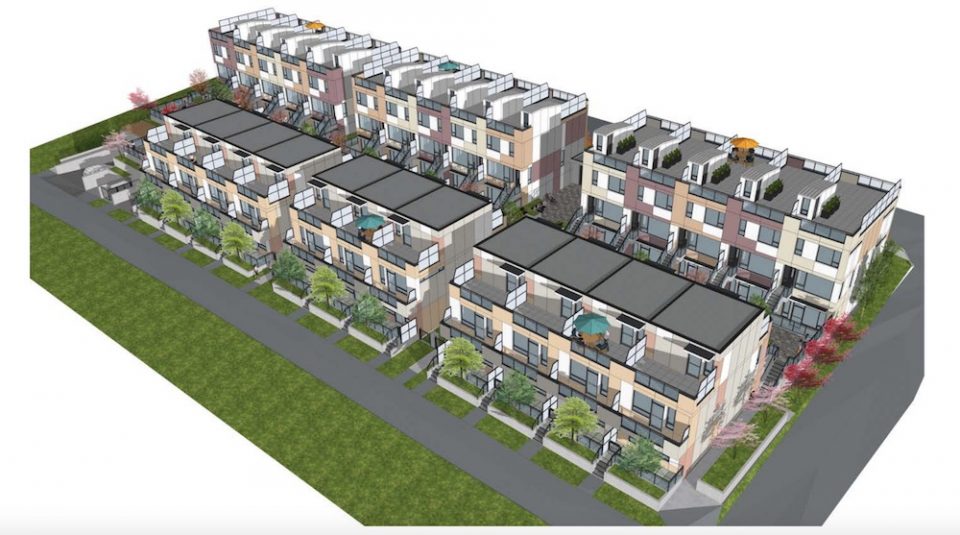 The architects, Integra Architecture Inc., state in the design rationale that "subtle use of colour" will be used to enhance the individuality of townhomes. The façade materials will consist of "concealed fastened fibre cement board panels with reveals."
Each unit will have its own front door and some useable outdoor space for table and chairs. This semi-private space is separated from the public street with a buffer of landscaping consisting of canopy trees, evergreen hedge and flowering shrubs. The larger units will have rooftop patios.
The development is similar to another recently announced Cambie Corridor townhouse development, also on West 28th Avenue, between Heather Street and Ash Street.
That development will see 62 townhouses replace six single-family homes, in a major densification effort consistent with the city's Cambie Corridor plan.