PCI Developments has filed a development permit with the City of Surrey for phase three of its King George Hub development, designed by Musson Cattell Mackey Partnership.
Phase three will consist of a 34-storey residential tower with a single-storey retail podium. There will be 371 residential units in the tower and 9,322 sq ft. of retail space on the ground floor.
Phase one of King George Hub is made up of the 10-storey Coast Capital Savings headquarters building, completed in 2015. Phase two consists of a stand-alone two-storey restaurant, single-storey retail podium, two residential towers (40-storey and 29-storey) and a 15-storey office building. Construction is now underway on this phase and condos in towers sold out quickly.
Renderings: King George Hub phase three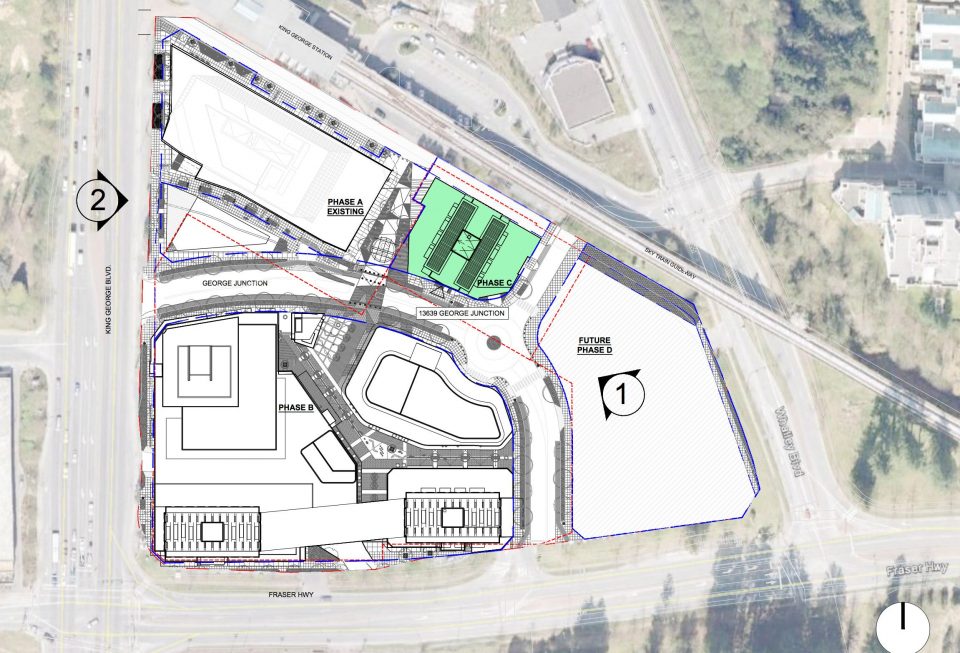 The north and south elevations of the phase three tower will be clad in a light grey window wall. A large white pre-finished metal panel canopy with wood slat soffit runs over the west and east elevations at the top of the building, concealing the mechanical equipment.
The proposed indoor amenity space is located on the third floor and incorporates a theatre, two lounge areas, gym, games/multipurpose room and flex room/library and provides direct access to one of the outdoor amenity spaces.
The outdoor amenity area located on the third floor will consist of an outdoor dining area with tables and chairs on a deck surface, bench seating on a turf surface, and an outdoor child play area with a cottage feature, a climbing play feature, spinning play feature and a chalkboard on a rubber playground surface.
King George Hub is located 160 metres (525 ft.) from the King George Skytrain Station, and is adjacent to the alignment for the upcoming Surrey-Langley LRT line.