Social housing container homes coming to troubled Vancouver neighbourhood
A unique new social housing development constructed with recycled shipping containers will soon be coming to the Downtown Eastside.
Atira Women's Resource Society is planning on building a seven storey social housing building at the corner of Hastings St. and Hawks Ave., with the superstructure made up of 56 shipping containers.
There will be 14 two bedroom units measuring 420 square feet each, and seven micro units of 280 square feet each.
Each studio unit will be made up of two 8'x20′ container units. The two bedroom units will be constructed with three shipping containers.
Rents will be at the shelter component of income assistance in B.C., currently $375 for singles and $570 for a woman with one child.
The complex will feature an amenity room for residents to gather, as well as an internal landscaped courtyard with garden plots.
The end of each container unit will be open, and a curtain window wall will allow light to filter inside the space. The sides of the containers will be left exposed and painted in "Vancouver Heritage Colours," including "Strathcona Gold" and "Edwardian Grey."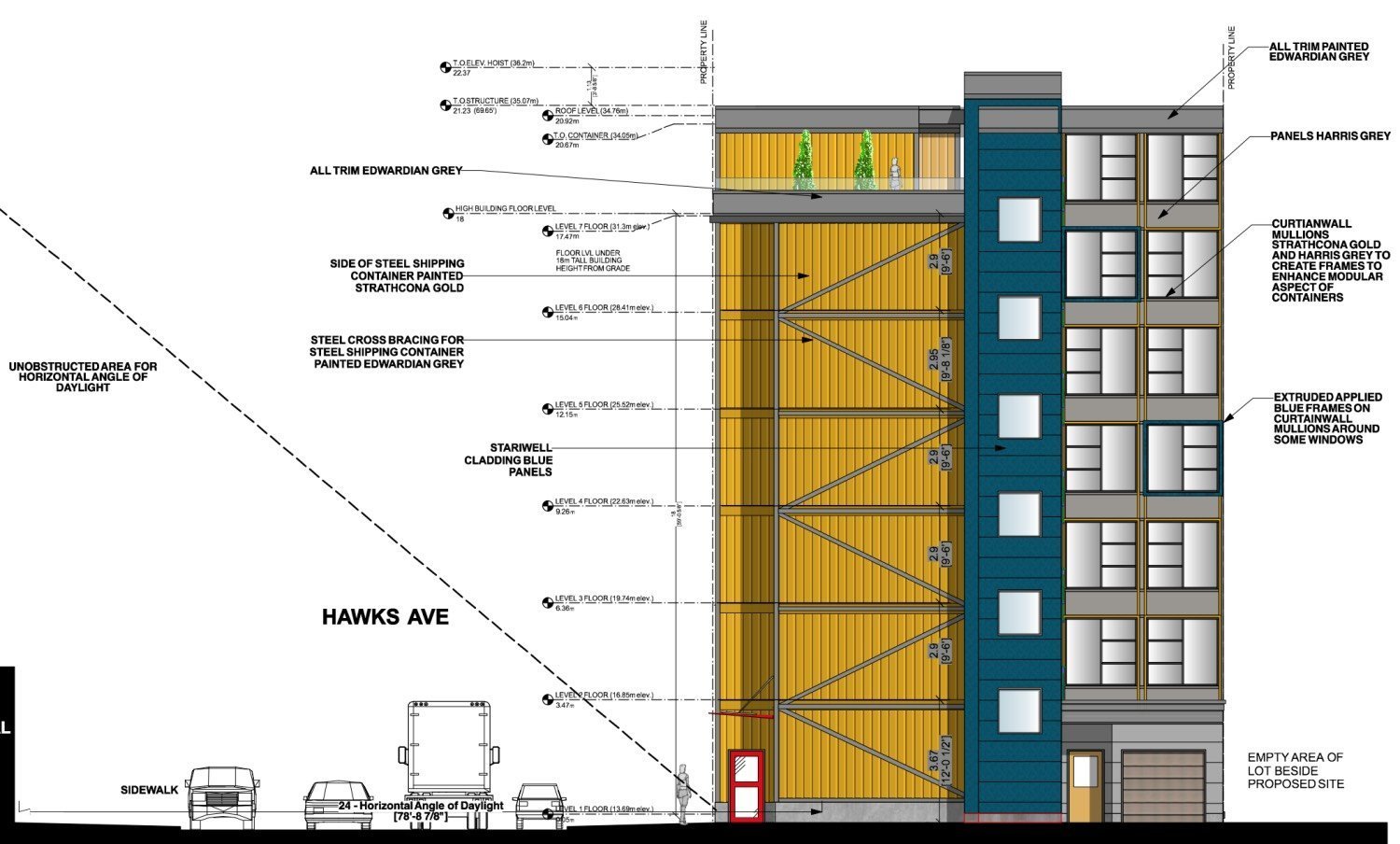 Boni-Maddison Architects designed the unique project. This is the second shipping container social housing project for Atira, Their first project, the Oneesan Container Housing Project, features 12 self-contained units in Railtown and opened in 2013.
The project was inspired by BC Hydro's "House of the Future," a recycled shipping container housing demonstration project built for the 2010 Vancouver Winter Olympics. BC Hydro donated The House of the Future to Atira in the summer of 2010.
The development was approved by Vancouver City Council on May 17, 2016, giving the green light to what will become the tallest modular building in North America.
Atira shared the following stats for the Oneesan project on Alexander Street when it opened in 2013:
Hard construction costs were $82,500 per unit
The studio units range in size from 280 – 290 square feet net living area.
The units are fully self contained, with kitchens, bathrooms and in-suite laundry
The development meets all current building codes and in some case exceeds code, e.g. insulation and sound transference
There are 12 units on a standard City of Vancouver lot; 25" x 119"