The Grove Burnaby phase one heads to a public hearing today.
The first phase consists of two residential condominium towers of 34 and 41 storeys, above two-storey commercial podiums fronting onto Dawson Street, between Willingdon Ave. and Alpha in the Brentwood Town Centre area. In total, the market condominium towers will contain 868 strata units — 52 per cent of which will be studio units.
The design, by IBI Group and Integra Architecture, also includes a six-storey, non-market rental building.
Renderings: The Grove Burnaby phase one renderings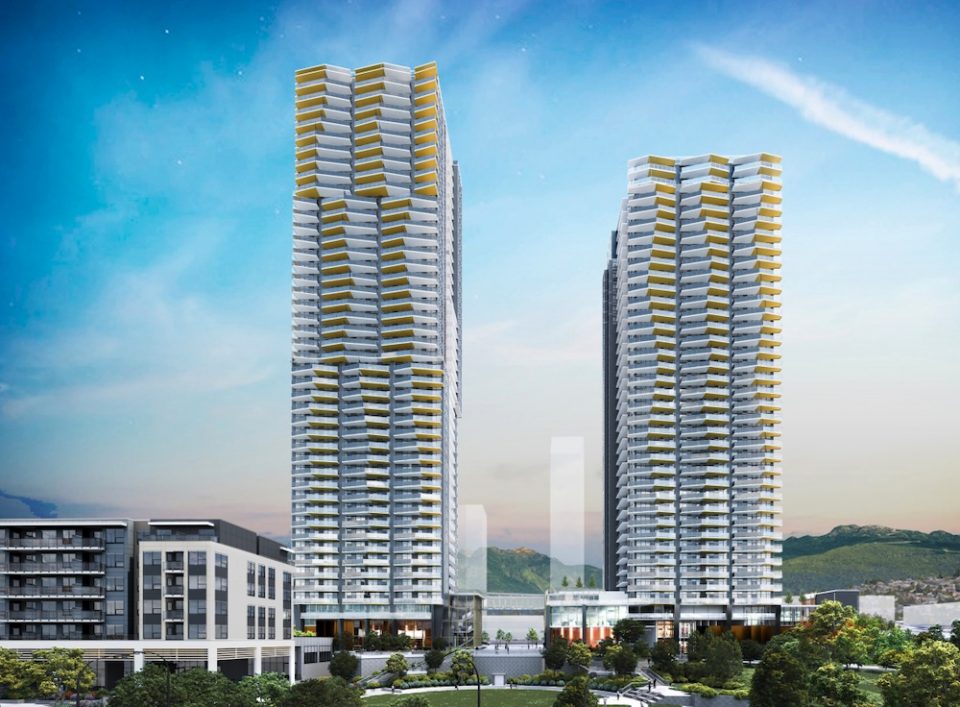 The site is the former location of Olympia Tile, and will be developed in four phases. The master plan for The Grove Burnaby also includes a new city park, a new section of Juneau Street, a north-south pedestrian route, a pedestrian overpass of the BNSF Railway, and 20 per cent non-market housing.
Phases of master-planned development
The non-market housing building, required by the City of Burnaby, will include 80 units over retail space.
Amenities for residents of The Grove will include a gym, yoga studio and accessible guest suite on level two; and on level three a lounge, music room, teen lounge, games room and mud room are located inside and dog run, garden plots and adventure play area are located outside on the podium rooftop. Common amenity facilities for the non-market development includes a lobby and mail room on level and lounge on level two connected to a large outdoor amenity deck with a kids play area, outdoor seating and dining areas.
Project backed by major Asian property developer
The Grove Burnaby is being developed by Aoyuan Canada, backed by China Aoyuan Group Limited. The developer has made a big push into Canada in recent years, and The Grove will be their first major masterplanned community in B.C.
The master plan envisions four phases of development on The Grove site into a high-density, mixed-use area; with the goal of providing a variety of housing opportunities, a pedestrian oriented network, more diverse employment and service opportunities, and a significant public open space. The master plan for The Grove calls for towers up to 51 storeys in future phases, as outlined in this article from September 2019.
Architecture inspired by new city park at centre of development
The architectural design of the towers is intended to be an organic aesthetic that complements natural cues offered by the park at the centre of the development. To achieve this, balconies are angled and shifted from floor to floor to form curved lines. At the podium, certain corners are beveled inwards to visually connect the curvatures from the park below, suggesting a blurring of the line where the park ends and the building begins.
Phase one of The Grove Burnaby will have a significant amount of parking, with a total of 1,175 stalls for the market, non-market and commercial components.