Local developer teases ambitious plan for 800-block Granville, home to Commodore Ballroom and Orpheum Theatre
The 800-block of Granville Street, home to two of Vancouver's most storied entertainment venues, could be transformed if an ambitious plan gets the go-ahead.
Bonnis Properties is working with architecture firm Perkins and Will on a major reimagining of Granville Street, between Robson and Smithe.
The block is home to several heritage buildings, including the Commodore Ballroom, one of Vancouver's most storied entertainment venues, and the Orpheum Theatre. The developer has spent decades assembling the properties on the east side of the street, with the intention of a "trophy site" redevelopment.
The plan is ambitious, and will see a new, modern building bridging the historic structures, adding 377,000 square feet of highly-desirable, large floor-plate office space in a cascading, glass-enclosed structure, nine storeys on the south end, and 17 storeys on the north.
There will be new restaurants on a terrace level between the new office building and the historic buildings, as well as new, large-format retail spaces, similar to Bonnis' property on the northern corner of Granville and Robson, home to Best Buy and Winners. The frontages of the heritage buildings will revitalized and restored.
Renderings: Revitalized Commodore Ballroom and 800-block Granville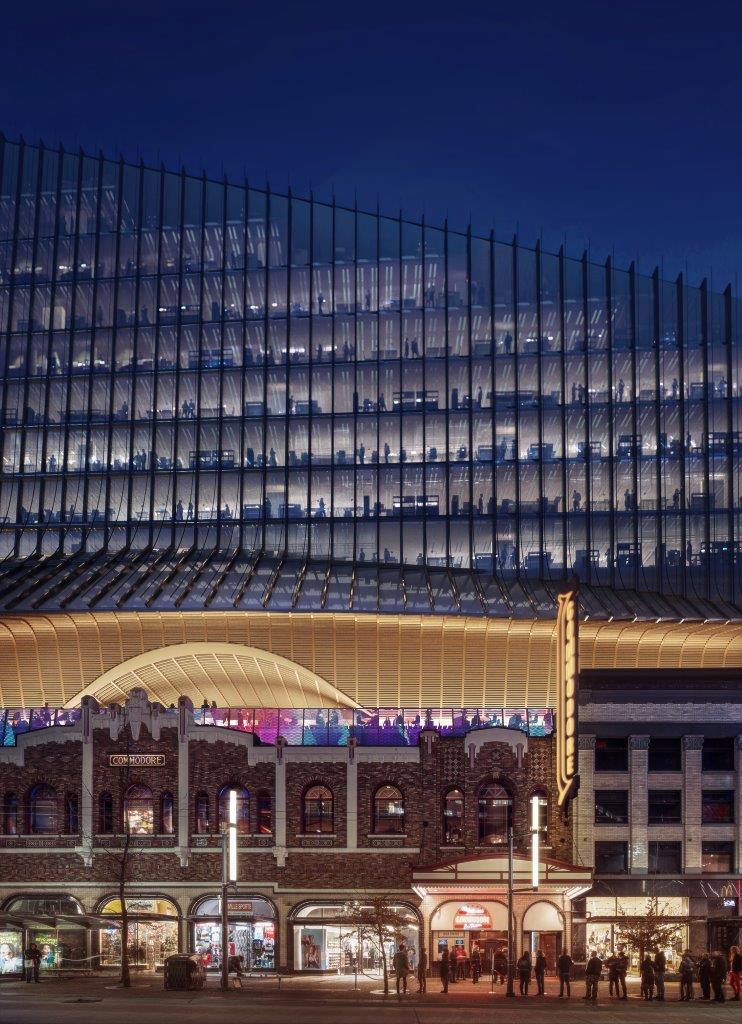 Project stats
377,100 square feet of office space
6,300 square feet retail/commercial uses (doubling existing area)
78,165 square feet of entertainment uses (an 85% increase)
Bonnis Properties estimates there will be between 2,000 – 4,000 jobs on site, boosting "eyes on the street" and foot traffic in the area.
The developer is hoping the promise of enhancements to the Commodore Ballroom and a new performance venue will help get the city on board with the proposal, which is in the pre-application stage.
"I don't think there's a single family in Vancouver that doesn't have a Commodore memory," says Kerry Bonnis, co-principal of Bonnis Properties with his brother, Dino Bonnis.
"We recognize what an institution the Commodore is, and the building needs to be protected inside and out. We don't plan to alter the original design of the Commodore, so we came up with idea to build on either side of it and bridge over it."
New performance venue and rehearsal space for VSO
A new, 14,700 square foot performance venue over three floors would be gifted to the city as part of the redevelopment, valued at $45 million. It would host arts and culture performances and provide expanded rehearsal space for the Vancouver Symphony Orchestra.
Bonnis says improved loading, lift and access for the Commodore Ballroom will allow the venues to increase the number of events they host. It currently takes three days to set up and take down shows due to the limited back-of-house capacity at both venues.
"We view this as a triple win for the city," says Bonnis. "I would hope the city gives this project the urgent attention it merits."
He adds the project team is hoping to submit a formal application within the next three months, with an eye to securing council approval as soon as possible — ideally this year.
Developer hopes proposal will improve safety in Granville Entertainment District
Bonnis adds that the proposal is "immediate, pandemic-proof stimulus" to the downtown Vancouver economy, at a time when it's desperately needed, particularly on Granville Street, which has experienced a dramatic decline in perceived safety and cleanliness.
To naysayers and anyone who thinks the proposal is too ambitious, Bonnis had this to say:
"The naysayers need to step aside and acknowledge that it is a lack of vision and leadership that has brought about the failure of Granville Street – where people are stabbed, killed, and attacked by machetes," says Bonnis, referencing several recent, high-profile public safety incidents in the entertainment district.
"Any resistance to change and acceptance of the status quo only amplifies and exacerbates the abysmal decline of the street," he adds. "We have the ambition to build a better city and a stronger community, driven by an expansion of arts and cultural uses, whilst preserving and adapting heritage assets," adds Bonnis.
"It should be applauded, encouraged and fully supported. Vancouverites deserve this, and opposition to these aspirations and ambitions lack logic and simple, old-fashioned common sense. Everything we've done is about community building — we've spent thousands of hours walking the street. There's never been a greater urgency to have something on Granville Street that has some gravitas," says Bonnis.